Category Search


Products for: Workwear



Products for: Pest Control



Products for: Livestock



Products for: Horse



Products for: Hobby



Products for: Fencing



Products for: Christmas



Products for: Chores
| | |
| --- | --- |
| Products by: UNCLE JIMMYS | |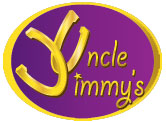 Keyword / Sub-brand Refinements:
9 Products Found:
Viewing:

Uncle Jimmys Horse Treats - Hangin Balls, Licky Thing - Wholesale - Farm General
Manufacturer of horse treats to help with stall boredom and supplies the horse with extra nutrition. After winning an Innovation Award recently, Uncle Jimmy got serious about selling equine treat balls. The design and concept of hanging balls is revolutionary.
Farm General Store offers discount UNCLE JIMMYS farm products at discount pricing.


---